Immediate Past Secretary/Treasurer, 2000-2021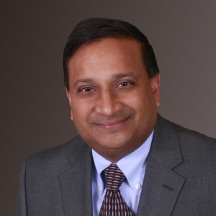 Sudhir Agarwal received his Doctor of Medicine from the University of Minnesota, completed his internship in general surgery at the Phoenix Integrated Surgical Residency Program and completed his residency in otolaryngology/head and neck surgery at the University of Minnesota.
Dr. Sudhir Agarwal is board certified by the American Board of Otolaryngology. In addition, he is a Fellow for the American Academy of Otolaryngology/Head and Neck Surgery and the American College of Surgeons. Dr. Sudhir Agarwal is an active member of the Phoenix Valley medical community and is a staff member at Banner Thunderbird Medical Center, Abrazo Arrowhead Campus and Metro Surgery Center.
In his free time Dr. Sudhir Agarwal enjoys outdoor activities such as hiking, pickleball, tennis and golf. In addition, he enjoys traveling with his family, reading non-medical books and volunteering at food banks and feeding the homeless.